Sinus Infections: Causes, Symptoms and Treatments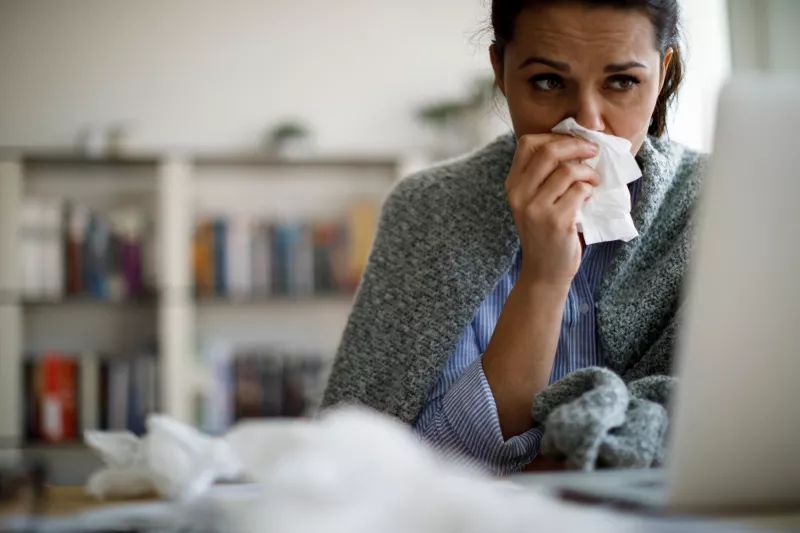 Choose the health content that's right for you, and get it delivered right in your inbox.
If you have an achy or throbbing headache and a pile of tissues by your side, you may be dealing with a sinus infection (sinusitis). Every year, almost 31 million people, adults and children, experience some sort of sinus infection but don't get it treated because they mistake it for the common cold or allergies.
Keep reading to learn more about sinusitis, symptoms to look for, treatment options and ways to prevent your passageways from getting congested.
What Is a Sinus Infection?
Sinuses are hollow spaces within the bones between your eyes, behind your cheekbones and in your forehead. A sinus infection is an inflammation or swelling of the tissue lining the sinuses, which creates blockages and fills up with fluid. This creates a perfect environment for germs to grow and cause an infection.
Some conditions can increase your chances of developing a sinus infection, such as:
Allergic rhinitis
Common cold
Deviated septum
Small growths in the lining of the nose called nasal polyps
Types of Sinus Infections
While all sinus infections are uncomfortable, they are not all the same. You may hear your health care provider use these terms when diagnosing your sinus infection:
Acute sinusitis: starts with cold-like symptoms like a runny nose and facial pain (may start suddenly and last two to four weeks)
Subacute sinusitis: usually lasts four to 12 weeks
Chronic sinusitis: symptoms last 12 weeks or longer
Recurrent sinusitis: happens several times a year and lasts four to 12 weeks
What Are the Symptoms of a Sinus Infection?
Symptoms of sinusitis often include:
Aching in your teeth
Altered sense of smell
Bad breath
Blocked or stuffy nose
Cough
Ear pressure
Fatigue
Fever
Headache
Pain, tenderness, swelling and pressure around eyes, cheeks, nose or forehead
Thick, yellow or greenish mucus from the nose or down the throat
Contact your primary care provider if your symptoms last more than a week, worsen or have a persistent fever.
See an ear, nose and throat (ENT) specialist as soon as you can if you have the following signs or symptoms, as they may indicate a more serious infection:
Confusion
Double vision or other vision changes
High fever
Pain, swelling or redness around your eyes
Stiff neck
Treatment for Sinus Infections
If your symptoms worsen or last longer than a week, your doctor may recommend you use a decongestant paired with saline washes. You shouldn't use an over-the-counter decongestant for more than three days, though, because it can make you more congested.
If the over-the-counter medication doesn't provide enough relief, your doctor may prescribe antibiotics for 10 to 14 days to clear up the infection.
Surgical ENT Treatments for Sinus Infections
If you have chronic or recurrent sinusitis, there are more advanced options that an ENT specialist can offer. Our AdventHealth ENT providers specialize in minimally invasive procedures that help alleviate and reduce your sinus infections. Two of the procedures we offer include:
Endoscopy
In this procedure, a doctor inserts a thin and flexible instrument called an endoscope into your nose. It has a camera that sends images back to a screen. The doctor can see where your sinuses are blocked and guide other instruments to gently remove polyps, scar tissues or other blockages.
Balloon Sinuplasty
If you don't have a physical blockage in your sinuses, you may be a good candidate for this newer type of minimally invasive surgery. A doctor puts a thin tube into your nose and releases a small balloon that inflates to expand your passageways and drain your sinuses so that you won't feel congested.
How to Prevent Sinus Infections
While there is no definitive way to prevent sinus infections, by taking these small steps, you can greatly reduce the chances of getting congested:
Apply a warm, damp washcloth to your face several times a day to help open your sinus passageways
Drink plenty of fluids to thin the mucus
Get a humidifier to moisten the air you breathe and help open sinuses
Inhale steam two to four times a day or sit in the bathroom with a hot shower running
Rinse your nose with a saltwater solution
Use a nasal saline spray several times a day
Expert ENT Care to Keep Your Nasal Passages Clear
We're here to provide healing and help you feel like yourself again. When your ears, nose or throat cause discomfort and disruption in your life, you can rely on our ENT specialists at AdventHealth to treat your symptoms with advanced, minimally invasive techniques that promote faster, better healing. Our ENT doctors can help you feel the relief you deserve. Learn more about our expert ENT care near you.