Running Outside vs. On a Treadmill: Is One Better?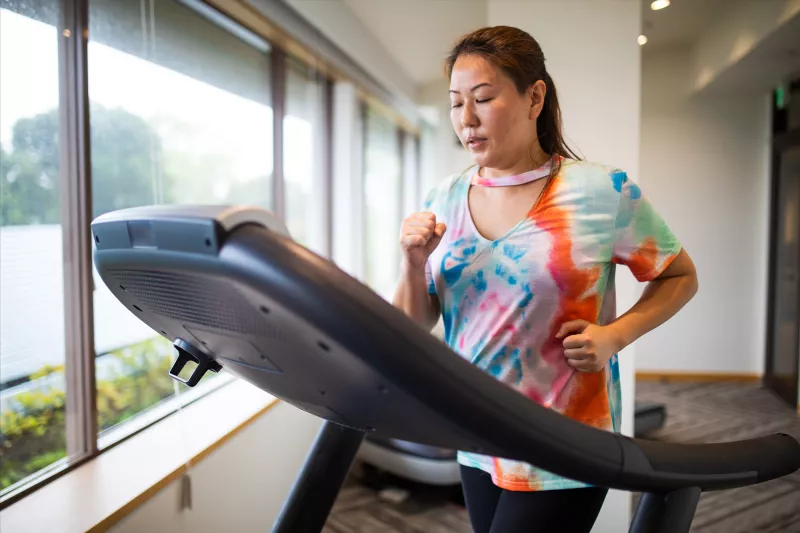 Choose the health content that's right for you, and get it delivered right in your inbox.
Running Outside vs. On a Treadmill: Is One Better?
Regular physical activity is an important part of a healthy lifestyle. No matter how you prefer to run for exercise, pleasure or both, you'll reap important health benefits as long as you're doing it safely and steadily.
Whether you're an avid runner or a casual jogger, you might have wondered whether it's better to run outside or on a treadmill for optimal health benefits. You might even already have a preference. Read on to learn the advantages and disadvantages of both outdoor running and using a treadmill so you can pick the best option for you, or a mix of both.
Health Benefits of Running
First, remember that running is a good aerobic exercise that effectively improves your whole health by:
Aiding weight loss
Calming your nerves
Easing depression and making you happier
Improving your mood, sleep, concentration and energy levels
Lowering your blood pressure and cholesterol levels
Reducing your risk for Type 2 diabetes, heart disease and some cancers
Strengthening your muscles, bones, lungs and immune system
Keep these benefits in mind as you learn about the pros and cons of outdoor vs. treadmill running.
Pros and Cons of Outdoor Running
Pros: Connecting with nature and the variety of running in different environments are some of the draws of outdoor running. And these come with their own health benefits as well, like breathing in more oxygen and boosting your natural intake of vitamin D by soaking in the sun's rays.
Cons: One of the major disadvantages of outdoor running is that you can't control your environment or the weather. If it's far too hot or too cold in certain regions or at specific times of the year, it may be unsafe and more detrimental to your health to run outside. Getting caught in the rain or a thunderstorm is also a potential risk of outdoor running.
If you prefer outdoor running and you're caught in a season that's too hot in your area, you can opt to run in the morning to avoid the most intense heat of the day while also gaining some extra advantages of morning activity. If it's very cold, bundle up! In any case, stay hydrated.
Pros and Cons of Running on a Treadmill
Pros: Treadmill enthusiasts love the controlled environment of being able to run in place whether you're at home or at a gym. You don't have to worry about unexpected weather changes or seasons that are too hot or too cold to stay comfortable outside. You can run any time of day or night and feel a sense of security.
Treadmills also offer a variety of functions like being able to control your pace, incline and intervals. The extra control can be helpful for those recovering from an injury as they can slowly build up their pace safely and steadily. And the cushions built into treadmills may be better for their joints.
Cons: For outdoor running enthusiasts, the prospect of running on a treadmill can be boring as you don't get the variety of changing environments. You also won't feel the physical and mental health benefits of being outdoors in beautiful, green spaces. Treadmills are also less cost-effective if you invest in one or you're using one at a gym, where memberships can be expensive.
You can always mix up running on a treadmill with running outdoors depending on the weather, your health needs and budgeting. Then, you can get the best of both worlds while getting physical activity that's good for your well-being!
Movement for Your Body, Mind and Spirit
At AdventHealth Sports Med & Rehab, we're dedicated to helping you stay healthy and strong. No matter how you choose to run, running regularly can improve your whole health. From strengthening your body to easing your mind and lifting your spirits, it's a great activity to help you live life to the fullest. For optimal results, start where you are, taking into consideration your current health. Then, you can progress as you feel comfortable and as your provider recommends.
Learn more about how we can help you with a personalized plan here. You deserve to feel whole.