Planning for Your Child's School Physical: What to Expect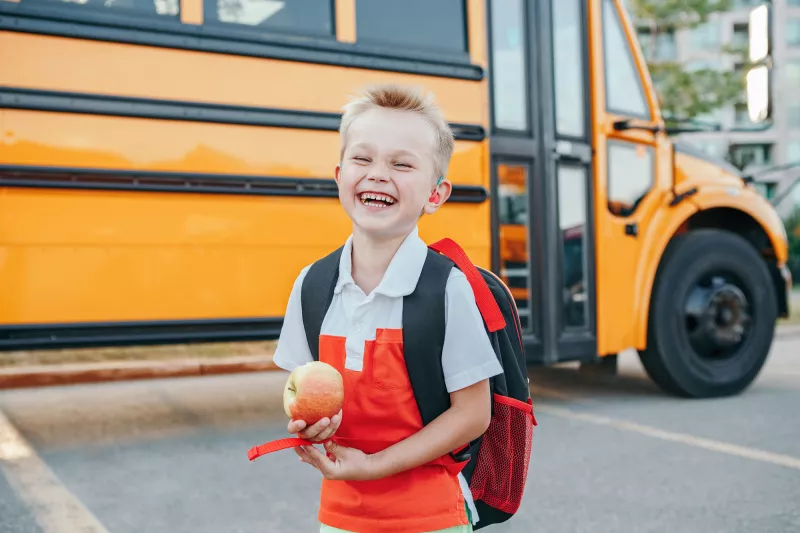 Choose the health content that's right for you, and get it delivered right in your inbox.
A school physical is more than just a routine doctor's appointment. It's a great way to get your child's school year off to a healthy start.
School physicals, also called well-child exams, allow your pediatrician or family provider evaluate your child's growth and development, screen for common childhood conditions and make sure their immunizations are up to date. Here's everything you need to know to plan for your child's next school physical.
When Does My Child Need a Physical?
Your family's pediatrician or family medicine provider may recommend more frequent exams based on your child's unique health history. But there are general requirements for school-age children, including:
If this is your child's first year at school
If your child is due for a vaccine
If your child will be playing a school sport or activity that requires an EKG screening*
If your child has not had a physical in the past 12 months
If your child is transferring from a school not in Florida to a new school in Florida
Schedule Early
Be sure to call your pediatrician's or family medicine provider's office for an appointment before summer vacation ends or school starts. Our team provides thousands of school physicals every summer, and slots fill up quickly. Plus, there's always a chance the provider will want to order a follow-up test. If your child's check-up happens late in the summer, you might not have time to schedule the tests before school starts.
Prepare Questions
Before the visit, think about any questions you have about your child's health. Maybe you're worried about their sleep habits, screen time or fitness level. Or maybe you're wondering about keeping an extra EpiPen in the nurse's office and finding out if your child is still allergic to eggs. If so, be sure to write your questions down.
When you arrive for your child's appointment, let a nurse or assistant know about your questions so they can give your doctor a heads up.
Bring Your Forms
Many schools ask parents to fill out and return health-related forms before school starts in the fall, most of which require a doctor's signature. These forms may:
Allow the staff to give your child medication during the school day
Clear your child to play sports
Confirm that your child's vaccinations are up to date
Be sure to bring those school health forms with you to your child's physical. If you don't have the forms you need, check your school's website or call the school for help.
Understand Common Screening Tests
Health screenings are a vital part of any school physical. Depending on your child's age and health history, these tests may include:
A screening for spine problems
A urine test to detect signs of infection or Type 1 diabetes
A vision check
Blood work to look for signs of high cholesterol or low iron count
Heart and blood pressure tests
Hearing test
Tests to check developmental milestones
Electrocardiogram (EKG)*
If any of these screenings suggest a possible problem, your doctor will talk to you about next steps. They may order follow-up tests to learn more.
*EKG screenings are required for various school sports and activities in several counties in Florida. Check with your specific school for requirements. Most AdventHealth Medical Group offices can provide these screenings so be sure to let the office know in advance if an EKG will be needed.
Think About Other Prescriptions
It's also important to bring along a list of the medications that your child takes regularly. If any were prescribed by another doctor or specialist, your child's doctor might not be aware of them. Just jot down the drug name, dosage and how often your child takes the medication, and bring that information with you. Another option is to download our AdventHealth app, where you can find physicians, schedule appointments, create personalized medical profiles for your whole family and more.

Be sure to let the doctor know if your child received other medical care in the last year. Examples include physical therapy, speech therapy or occupational therapy.
If your child needs the school office or school nurse to keep extra medication on hand, let your doctor know. These can include:
An emergency inhaler for asthma symptoms
An EpiPen for severe allergic reactions
Insulin for Type 1 diabetes
Medication for a chronic condition
Prep for Immunizations
Immunizations keep our kids and communities safe. They protect infants, children and teens from serious diseases. All public school systems require certain immunizations in order for children to attend classes. Your child's school physical is the ideal time to get up to date on those shots. If your child missed any immunizations at a younger age, the doctor might give "catch-up" immunizations.
Consider mentioning any upcoming immunizations to your child to help them mentally prepare — some kids like to know in advance. For a complete schedule of childhood immunizations, click here.
Here To Make Sure Your Kids Are Healthy
At the end of the appointment, you'll leave the doctor's office with an after-visit summary and completed forms. Your child may even receive a sticker for a job well done! More importantly, you'll have peace of mind knowing you're doing all you can to help start your child's next school year in the healthiest way possible.
If you need a pediatrician or family medicine provider, we're here to help. We're here to keep your children whole in body, mind and spirit.