Know the Risks of Energy Drinks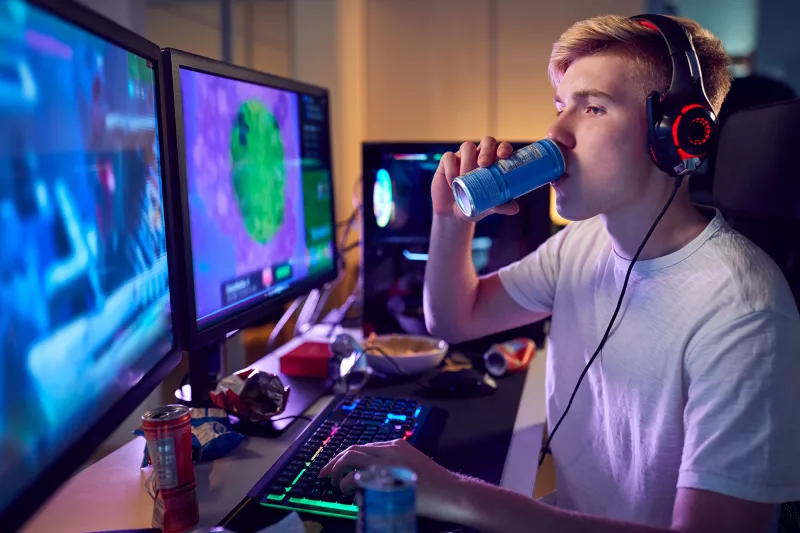 Choose the health content that's right for you, and get it delivered right in your inbox.
Energy drinks have gained overwhelming popularity among young people who drink them for energy boosts, presumed health benefits — and glamorous associations with celebrities and athletes that the beverage-makers sponsor.
Most who consume energy drinks believe they're safe and healthy and think of them as sports drinks that will enhance performance. But what are they really? We're here to debunk some of those claims and give you the bare facts about energy drinks.
What Really Is an Energy Drink?
According to the CDC, an energy drink is "a beverage that typically contains large amounts of caffeine, added sugars, other additives, and legal stimulants such as guarana, taurine and L-carnitine. These legal stimulants can increase alertness, attention, energy, as well as increase blood pressure, heart rate and breathing."
Young people drink these for the desired energy increase, not realizing that the stimulants can potentially harm their nervous systems.
What Are the Risks Associated with Energy Drinks?
It's not uncommon for teens to end up in the emergency room with an energy drink-related emergency. Some of the dangers associated with energy drinks that may land you in the ER and possibly lead to long-term health problems are:
Anxiety and restlessness
Dehydration
Heart complications including palpitations and heart failure
High blood pressure
Insomnia
It's recommended by many pediatricians and the CDC that young people do not consume energy drinks due to the potential risks — but 30 to 50% of them do.
Drink to Your Health with These Alternatives
Energy drinks are full of sugar, sodium and especially caffeine — often twice as much as coffee and eight times as much as a soda. They're an unhealthy beverage for anyone, especially a growing young person.
These healthier drinks should be offered instead at home and at school:
Decaffeinated, herbal or low-caffeine teas
Low-fat or fat-free milk
Plant-based milks like almond, coconut or oat milk
100% fruit juices with natural nutritive value
Water
Out of all of these, water should be encouraged as the healthiest drink for our bodies to function optimally. Drinking enough water is what boosts our energy, improves our performance, gives us brain power, helps us maintain a healthy weight, improves mood and enhances our complexions because it keeps us hydrated. Women should aim for 11.5 cups of water per day, while men should drink 15.5 cups. Children and teens should drink 6 – 8 cups of water each day. Talk to your pediatrician about your child's unique hydration needs.
Keeping You Energized, Naturally
Making healthy diet and beverage choices is important to maintaining heart health and whole-person health. At AdventHealth, our cardiovascular care team is here to help you take control of your health in body, mind and spirit, and manage any ups and downs along the way. Learn more here.