Can Gaming Benefit Your Brain?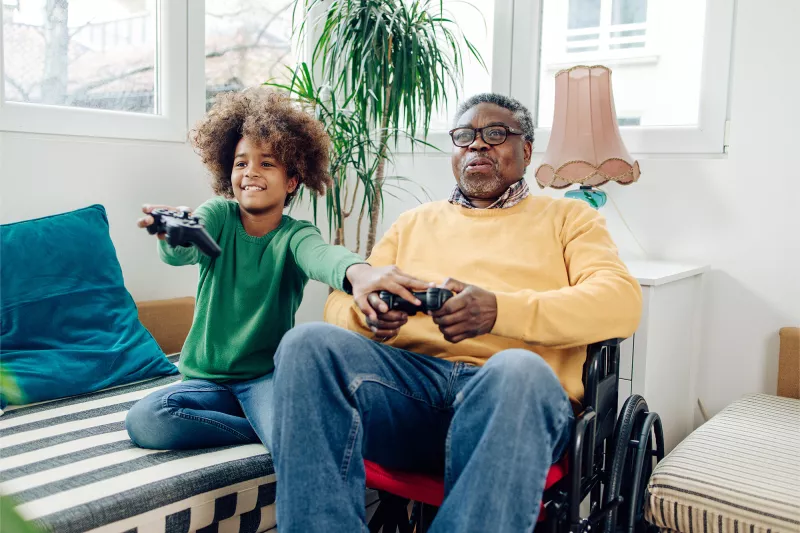 Choose the health content that's right for you, and get it delivered right in your inbox.
Gaming is a popular pastime for people of all ages. They're widely available on our phones, tablets and computers, making them only a quick click or swipe away to those who love to play. While many health experts worry that video or virtual games can cause problems, some recent studies actually point to potential benefits — and that comes as good news for all the gamers out there.
We're here to explain how to game to your advantage so you can get the best of both worlds — health benefits along with fun.
Flex That Brain
Research shows that those experiencing memory loss may benefit from playing video games by delaying the brain's aging process. Engaging in new activities, such as gaming, can keep the parts of the brain that are susceptible to memory problems sharp.
One study revealed that memory improved in people from 60 to 80 years old who played video games each day over the course of four weeks. At the end of the month, they scored higher on memory tests than those who played other games, like solitaire.
Gaming is also now used to treat people with ADHD. The U.S. Food and Drug Administration even approved the video game, EndeavorRx, in June of 2020 to help kids with ADHD.
When combined with other treatment methods, video games kept those with ADHD motivated and focused during therapy with hardly any side effects.
Boost Your Mood
Video games also let you experience adventure without leaving your home. Especially for those restricted in movement or mobility, immersive video games can provide an exciting escape.
As you discover and explore the world of virtual reality, you'll raise your dopamine levels, which are connected to feelings of happiness and reward. Gamers often experience heightened pleasure and confidence when playing because of this natural rush.
Proceed With Caution
Like all things, you'll need to strike a healthy balance. There are potential drawbacks to gaming, especially if they include violence or other unsuitable content for kids and adults alike. Negative side effects of too much screen time range from strained eyes to reduced physical activity and trouble sleeping.
Video game addiction is a risk, especially for kids and teens with ADHD. Look for signs such as losing interest in non-gaming activities and an obsession with devices. Make an appointment with your child's health care provider if you notice these tendencies.
The Name of the Game
At AdventHealth, we want to see you happy and healthy no matter your stage of life. That means attending to your body, mind and spirit with whatever helps you achieve wholeness.
Whether our skilled team recommends traditional methods or the most leading-edge techniques, you can rest assured that we're caring for you as the unique individual you are.
Visit us here for the compassionate care you deserve — and learn more about how AdventHealth has entered the arena of eSports here.