4 Ways Thanksgiving Is Tough On Your Spine And What You Can Do to Stay Healthy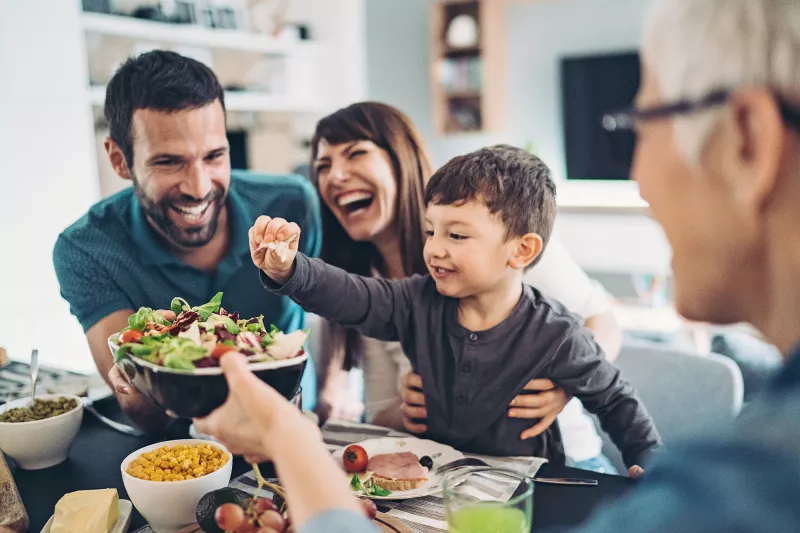 Choose the health content that's right for you, and get it delivered right in your inbox.
As we head into the holidays, we thought it might be helpful to discuss some of the ways that people commonly put themselves at risk for back pain this season, along with the best means of safeguarding your spine from such problems.
1. What you eat and how much you eat makes a big difference to your spine on Thanksgiving.
We'll start with the obvious which is all that food that gets consumed on turkey day, as well as the days that follow. Understanding that November 24 is essentially the kickoff of an entire season in which people are liable to overconsume and gain weight, it's important to try and limit the amount you eat at each setting to a normal dinner portion. One way to accomplish this is by eating slowly and then moving away from the dining table within a reasonable amount of time, rather than sitting there for an extended period.
Remember that leftovers are one of the best parts of Thanksgiving. Taking breaks and moving between dinner and dessert can make a significant impact.
That said, it's not just the volume of food, but the kind of food that you consume over the holidays that matters to your spine. Especially if you suffer from chronic back pain, you need to avoid foods that promote inflammation and focus on those that fight it.
The good news is that plenty of the foods that are traditionally served at Thanksgiving have positive health benefits fighting inflammation. Below are a few of the best and worst foods for back pain this Thanksgiving.
Examples of spine-healthy Thanksgiving anti-inflammatory foods include:
Almonds, pecans and walnuts

Berries

Cranberries

Spinach salad and other dark leafy greens

Sweet potatoes

Thanksgiving foods that can increase inflammation and back pain include:
Pumpkin pie and other sugar-filled desserts

White bread, stuffing, rolls and pastries

Milk, cheese, butter and ice cream
Margarine

Fried foods and processed meats
2. Inactivity is your spine's number one enemy but be careful about the physical activity you decide to pursue.
It's a time-honored tradition in many households -- sitting around the TV both before and after the big meal. From the Macy's Thanksgiving Day Parade to the pro football game and all those wonderful Thanksgiving specials, it's no wonder that we spend a lot of time on the couch.
It's also important to stay active if you want to avoid unnecessary back pain, and while busy holiday schedules can undoubtedly interrupt on your exercise routine, this is no time to be sedentary. Not only does exercise help you keep off the extra weight, but it can also help minimize your back pain and stress as those feel-good endorphins are released. So, break up periods of inactivity with a brisk walk or other types of exercise, and your spine will keep you feeling fine this holiday season.
But whatever physical activity you select it needs to be right for you. Plenty of people wind up needing to see a doctor after engaging in a holiday football game with family in which they sustained a lumbar strain or other injury. Don't let this happen to you. If your level of core fitness isn't ready for football, do something less demanding and stay safe this holiday season.
3. Preparing the Thanksgiving meal can be as challenging for your back as it is for your culinary skills.
If you're the chef this Thanksgiving, there are multiple ways that you can hurt your back while making the big meal. Some of these are obvious for example, hefting a 20 lb. turkey to and from the oven is a prime way to strain your back if you don't practice proper bending and lifting techniques. But there's also the stress that's put on your back from being on your feet all day long and standing at the kitchen counter for much of that time. To lessen your chance of experiencing lower back pain, you may want to do your veggie chopping and other tasks while sitting at a table, leaning on a high countertop or resting one foot in an open lower cabinet to reduce the strain on your spine. You may also consider buying or borrowing lightweight pots, dishes and trays to lessen the amount of heavy lifting you have to do.
4. Traveling for Thanksgiving provides multiple opportunities for back pain.
Approximately 53.4 million people travel over the Thanksgiving holiday. If you're one of those travelers, you may be at risk of back pain caused by lifting heavy suitcases in and out of the trunk and from prolonged sitting without the right ergonomic support. Air travel can be equally tough on your back. Here are some tips on avoiding back pain while traveling for Thanksgiving this year.
Maintain a neutral spine

Take frequent breaks. Move around your flight or take breaks while driving

Sit with a good posture

Pack light and use wheeled suitcases

Use good body mechanics when handling luggage
Keeping your back comfortable and safe this season should be a priority.
Expert Spine Care Is Here for You
Our spine care specialists are ready to listen, answer your questions and explain spinal disorder treatment options. To learn more about spine care at AdventHealth or request can appointment visit FloridaSpineExperts.com.