10 Tips to Stay on Track During the Holidays Following Bariatric Surgery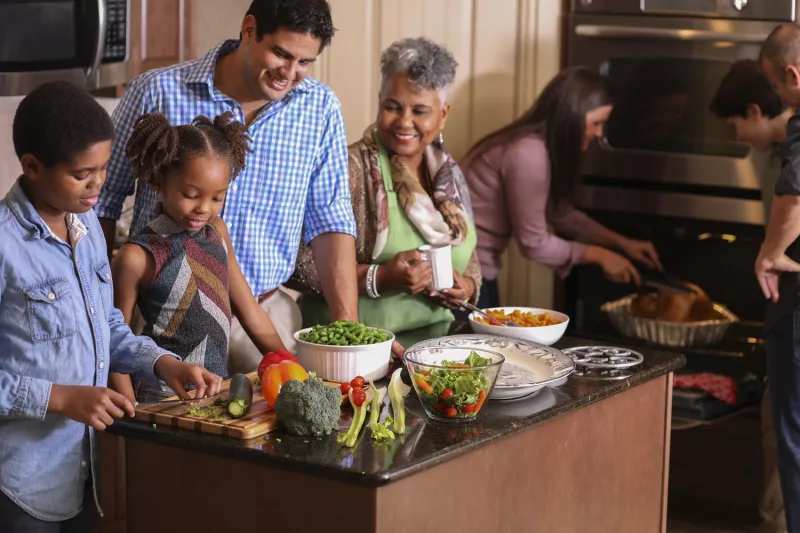 Choose the health content that's right for you, and get it delivered right in your inbox.
The delicious treats and traditions of the holidays can create a challenge: How do we enjoy the fun and flavors of the season — but without adding unwanted pounds? Americans tend to gain one or two pounds during the holidays each year because there are rich foods and desserts involved. And if those extra pounds stick around, they can add up over the years.
While we can all relate to the challenge of staying healthy during the holidays, there's even more at stake for those who have just gone through weight loss surgery. Understandably, there may be complex emotions surrounding food as the holidays approach. But at the same time, you're committed to your nutrition plan so you can keep off the weight you successfully lost and continue on your weight loss journey.
Here are 10 simple tips to help you stay on track with your healthy lifestyle following weight loss surgery. And you'll still be able to enjoy all the holiday season has to offer. The biggest difference from holidays past will be a healthier, happier you.
1. Stay Physically Active
Keeping up with your exercise plan is a recipe for success. Along with exercising regularly, simple tricks like taking the stairs instead of the elevator, parking farther away while doing your holiday shopping, or going for a family walk after meals all add up to more movement (and more burned calories) throughout your day.
2. Don't Go to Holiday Events Hungry
Letting yourself get too hungry can lead to food choices and amounts you didn't intend. Plan to have a small snack or light meal with some protein and fiber before you go to an event that will have food. It's best to stick to your regular meal plan as much as possible.
3. Avoid Buffet Tables
Standing close to the food may result in nibbling without thinking. Carefully select items you truly want to try, and then move away and enjoy them slowly and mindfully.
4. Choose Healthier Alternatives When Cooking and Baking
Give your favorite recipes a healthy makeover by adding foods with a higher protein content and looking for alternatives that cut some of the saturated fat and calories. For example:
Add flavor with garlic, spices and herbs rather than saturated fats, such as butter and gravy
Combine 1/4 cup high-protein Greek yogurt with 1/2 cup butter to replace 1 cup of butter in a recipe
Consider natural sugar substitutes, such as unsweetened apple sauce
Use fat-free or low-fat creamed soups rather than the full-fat versions
Use nut milk instead of whole milk in your mashed potatoes
When baking your favorite holiday treats, substitute evaporated coconut milk in place of heavy cream
5. Bring a Healthy Dish to Share
Not only will you be participating in the spirit of giving, but you'll also be including yourself at the holiday party by making sure there's a healthy dish that you like available.
6. Try Food Journaling
Journaling creates a space where you can track what you eat, how often you exercise and other lifestyle habits that may influence your weight loss success. Keeping a weight loss journal can make you more aware of your eating habits and your feelings behind them. Your journal may be especially helpful to help keep track of your eating and your emotions surrounding food during the holidays.
7. Stay Hydrated
It's important to stay hydrated and plan ahead. This ensures you can avoid drinking within 30 minutes of eating and still get in 64 ounces of water a day.
8. Avoid the Alcohol
Alcoholic beverages are filled with empty calories. It's better to eat your calories than drink them. In addition to adding calories, alcohol can dehydrate you. Be aware that alcohol can affect you differently after bariatric surgery. You may feel its effects much sooner with less alcohol.
9. Use a Small Plate
By using portion control, you won't have to think as much about how much food you're consuming. As you pick up your plate to serve yourself, swap it for a smaller plate, such as a salad or dessert plate. Then fill that plate with samples of each dish rather than a whole serving. Think small portions of appetizers rather than entrees.
10. Find a Bariatric Support Group
When you've made the life-changing step to lose weight and get healthier through bariatric surgery, there may be times when you need some extra support, especially during holidays.
Connect with any location of our AdventHealth Bariatric and Metabolic Institute to find a virtual support group. This provides much support and the opportunity to connect with your healthcare professionals and fellow bariatric patients.
Count on Us for Solid Support Before and After Bariatric Surgery
We're humbled by your trust in us, and we do everything in our power to support and protect your whole health on your weight loss journey, during the holidays and always.
Learn more about the expertise and quality care provided at AdventHealth Bariatric and Metabolic Institute by visiting us here. You deserve to feel whole for the holidays.