What to Expect at Your Bone Density (DXA) Scan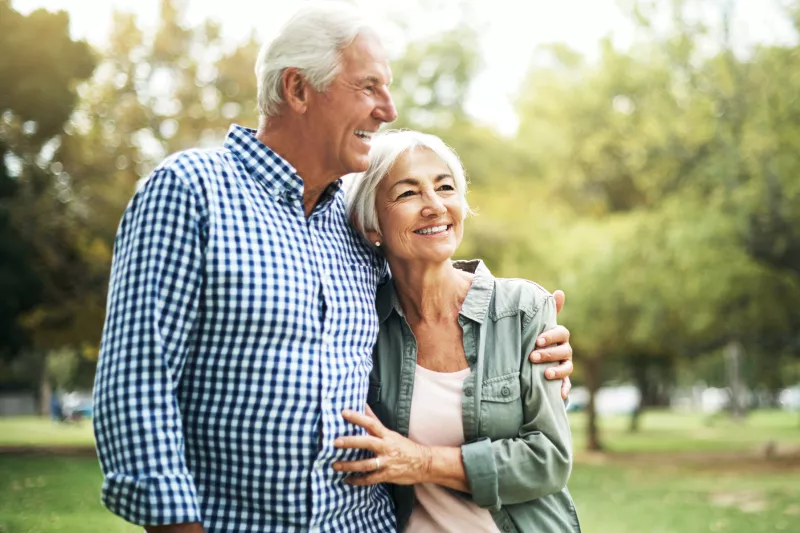 Choose the health content that's right for you, and get it delivered right in your inbox
When it comes to your foundation – your bones – monitoring your well-being takes careful attention. Preventing or treating conditions like osteoporosis requires a helpful diagnostic test called a bone density (DXA) scan. This scan provides an easy, noninvasive way to take control of your bone health and put your mind at ease.
What Is a Bone Density (DXA) Scan?
Just like muscles, bones strengthen and weaken throughout our lives. The older we get, the more fragile our bones become — and the more likely they are to break or fracture. This weakness can trigger conditions like osteopenia and osteoporosis. Bone density (DXA) scans are the most effective way to prevent breaks and diagnose these disorders.
DXA (or dual X-ray absorptiometry) scans are x-ray devices that use tiny amounts of radiation to capture images of your bones. They measure the amount of calcium and minerals in your bones, helping your doctors identify whether there is bone loss.
Specialists primarily focus on the hip, spine and forearm bones during these scans since these areas tend to be weaker and more likely to break.
There are a few different types of DXA scans.
Peripheral DXA Scans
Peripheral DXA scans focus on the bone density of your wrists, heels and fingers. These box-shaped devices are much smaller than central scans and have a space for you to place your foot or forearm inside.
You can find these portable machines in many drug stores and at local health fairs. Generally, they are used to predict whether or not you need more detailed testing.
Central DXA Scans
Central DXA scans measure the bone density in your hips and spine. Most hospitals and other medical facilities have central scan equipment.
What Can a Bone Density Scan Find?
DXA scans capture a variety of different conditions. Two of the most widespread issues with bone health include:
Osteopenia: your bone mineral density is lower than normal (precursor to osteoporosis)
Osteoporosis: your bones become brittle and weak with the risk of a break increasing significantly
Luckily, DXA scans make it easier for your doctor to detect and treat these conditions with a personalized plan to help improve your bone and overall health.
Who Should Have a Bone Density Scan?
Since our bones weaken as we age — and our hormone levels drop over time — conditions like osteoporosis generally affect people over the age of 50. But age isn't the only factor that causes bone loss. Specialists recommend you get a DXA scan if you:
Are a man age 70 years or older (60 or older with certain risk factors)
Are a woman age 65 or older
Are menopausal
Are postmenopausal with certain risk factors
Break a bone after age 50
Have lost over 1 inch of height in the last year
Have unexplained back pain
Use medications that cause bone loss
How to Prepare for Your Bone Density (DXA) Scan
Your doctor will give you a prescription or referral for your test, and will likely refer you to a specific medical center. Be sure to let your doctor (or the scheduler) know if you've had a test that required contrast or barium within the last couple weeks. Your bone density scan will need to be delayed until these substances have left your system since they affect the bone density test.
To prepare for your scan, you should:
Avoid wearing jewelry, glasses and watches (or have a safe place to store them during your test)
Eat normally before your exam
Stop taking any calcium supplements 24 hours before your appointment
Wear comfy clothing that doesn't have any metal accessories (zippers, buttons or clasps)
What to Expect When You Arrive at Your Scan
Reception
Once you arrive at your exam a receptionist will give you some basic paperwork to complete.
During the DXA Scan
A technician will escort you to the x-ray room when they're ready to conduct your scan and may ask you to change into a hospital gown (especially if your clothing has any metal pieces).
When you're ready, you'll lie on a flat, padded table where your technician will help position your body as needed to obtain the desired images. You'll also get any special instructions. For example, you may be asked in some cases to hold your breath for a few seconds during the scan to prevent blurry images.
Once you're settled in and ready, the arm of the x-ray machine will be placed over your lower stomach and the technician will step into the next room to take the pictures. The x-ray arm will move slowly above your stomach, capturing images. This will only take a few minutes.
As long as the images are clear, you're technician will give you the go-ahead to change back into your clothes and get on with your day.
How to Interpret Your Scan Results
Your DXA results will be sent to your doctor, who will go over them with you in detail and explain any next steps in your treatment plan.
Your results consist of two parts – a T score and a Z score.
Your T Score
Your T score measures the amount of bone you have compared to a healthy young adult of the same gender:
A score of -1 and above means your bone density is normal
A score between -1 and -2.5 means your bone density is less than normal and you may have osteopenia
A score of -2.5 and below means your bone density is very low and you may have osteoporosis
Your Z Score
Your Z score shows your bone density compared with people who are the same age, size and gender as you. If your Z score is significantly higher or lower than the average, your bone loss may not be related to aging. Your doctor might want to do additional testing to find the source of the problem.
Strengthen Your Bones, Strengthen Your Whole Health
Taking control of your bone health is an important step in your health journey. Trust dedicated medical and imaging experts to create a personalized plan for your whole health.