Regaining Balance with Vestibular Therapy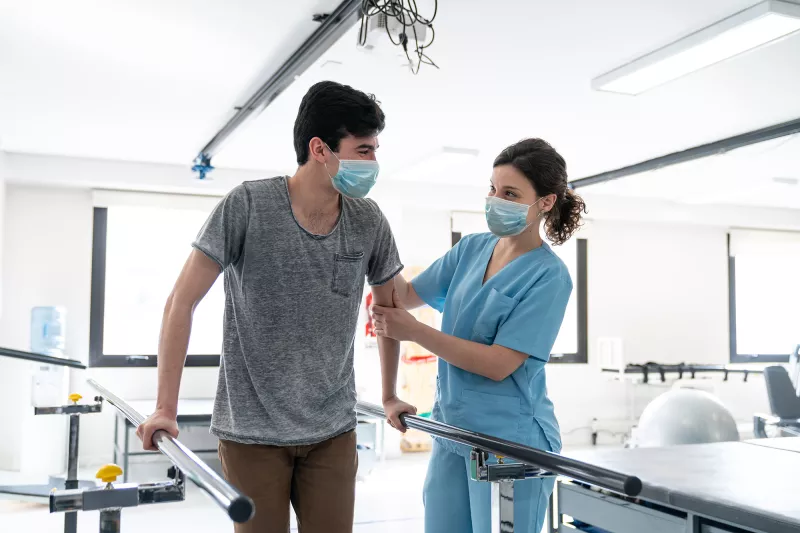 Choose the health content that's right for you, and get it delivered right in your inbox.
If you or someone you love experiences dizziness or balance issues on a regular basis, you know how distressing it is. We're here with expert information and advice from physical therapy and rehabilitation specialist, Grace Bacani, on how vestibular therapy can help relieve your symptoms.
What is vestibular therapy?
Grace: Vestibular rehabilitation is a specialized form of therapy used to alleviate symptoms including dizziness, vertigo, unsteadiness and imbalance issues caused by vestibular disorders or other conditions.
It's an exercise-based program to reduce vertigo and improve balance. It can help problems with gait, unsteadiness and falls caused by gaze instability. The goal for every patient is always to reduce symptoms, increase their safety and independence and improve their quality of life.
What conditions, symptoms and disorders can vestibular therapy treat?
Grace: It can effectively treat vestibular disorders like Benign Paroxysmal Positional Vertigo (BPPV), vestibular neuritis and labyrinthitis. It can also treat symptoms brought on by head traumas such as concussions and strokes, and help with symptoms from the natural aging process.
Other conditions that are usually medically managed can be helped by vestibular therapy if a patient is having balance issues or dizziness with head and body movements (or position changes). These include motion sensitivity, migraines and Meniere's disease.
How effective is vestibular therapy compared to other types of physical therapy?
Grace: Having a vestibular disorder is more significant for functional limitations where patients tend to perform tasks more slowly, or even avoid some movements or activities. Their activities at home and outside the home are more limited with restricted driving, more time off from work and are often less productive at work and at home. Their social activities may also be limited as a result of visual vertigo issues in large open spaces indoors, outdoors or in crowds.
It's important to find a therapist who specializes in vestibular therapy. They can use a wide range of strategies and techniques that can help reduce and prevent functional impairments and limitations in patients' normal activities.
What does a typical vestibular therapy session entail?
Grace: It would be 45 to 60 minutes, usually once a week, sometimes twice a week. The therapy session may vary from patient to patient depending on their specific condition. If the patient is being seen for BPPV, we focus on clearing vertigo and nystagmus by doing Canalith Repositioning Maneuver/Treatment. Then we look at balance and gait or other issues the patient may be having. For example, for those with muscle weakness, balance or unsteadiness with walking, we do general strengthening exercises, dynamic standing and gait activities.
What are some of the benefits patients can expect?
Grace: Depending on the complexity of the condition, the patients will be seen one to two times per week for six to eight weeks with a focused home exercise program for maximum benefits. The benefits include improved quality of life, return to normal activities, being able to drive again and a reduced risk for falls.
A Balanced Life is a Whole Life
At AdventHealth, we're passionate about helping you achieve wholeness by balancing the health of your body, mind and spirit. Our expert therapists are here for all your needs at our Sports Medicine and Rehabilitation program.