Mission Possible: Our Partnership with Chris Nikic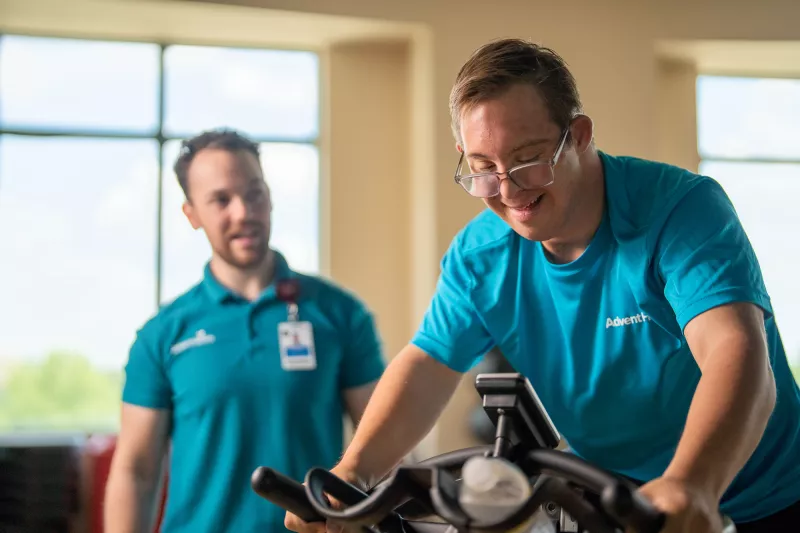 Choose the health content that's right for you, and get it delivered right in your inbox.
Chris Nikic, a 22-year-old athlete living with Down syndrome, lives with all its associated disabilities and transcends them in a powerful way. He's made the choice to see possibilities and focus on his God-given abilities. In doing so, he's proven that we all have it in us to achieve greatness.
An overcomer and influencer, Chris is on a mission to inspire everyone to reach their full potential by getting 1% better each day. He's also working to create a more inclusive future for the running community.
Chris' Achievements
John Burnside, ATC and Sr. Manager of Sports Partnership Clinical Integration, provides perspective on Chris' remarkable accomplishments with details on the IRONMAN triathlon. He explains what it takes physically, mentally and spiritually to not only undergo it, but to complete it. Chris successfully did both:
"Chris decided to take on triathlon, and in doing so completed the longest and most difficult 1-day triathlon distance there is — the IRONMAN ­— a 2.4-mile swim, a 112-mile bike and a 26.2-mile run. For most athletes in top physical condition, this takes months to train for and successfully execute on race day. It requires self-discipline, a never-quit-attitude and a self-belief that you have what it takes to succeed."
Some of Chris' top achievements include:
First person with Down syndrome to complete an IRONMAN triathlon in Hawaii, November of 2020
Completed the Boston Marathon in 2021 and 2022
Completed the Walt Disney World Marathon in January of 2022
Co-author of the book, 1% Better
Was awarded the Jimmy V Award at the 2021 ESPYs (You can watch his speech here).
Chris isn't done yet! Burnside continues, "With the support of AdventHealth Sports Med and Rehab, he's improving daily. He's scheduled to compete at IRONMAN Hawaii again this October ­— a world championship event for the athletes and Special Olympics athletes."
We're proud of Chris and we're cheering him on as he continues to train and flourish.
Our Partnership With Chris Nikic
AdventHealth is proud to be the Official Health Care Provider for Chris Nikic. Burnside illuminates, "AdventHealth is the perfect match for Chris. I believe performance is optimized when someone is fit in mind, body and spirit. Chris is the perfect example of someone who embodies the whole-person package. It's an honor to work with Chris and his team. He inspires our team to exceed expectations in support of his goals."
As a part of our partnership, we've pulled together a team of physical therapists, athletic trainers and massage therapists to craft a health plan that includes movement, strength and recovery to help Chris along his journey — all with a shared vision of creating a healthier, more active and more inclusive community for everyone.
Mission Possible
Burnside speaks of how Chris exemplifies our mission in body, mind and spirit:
"Chris Nikic embodies AdventHealth's mission by his willingness to take on any challenge, against all odds, and with a positive attitude. If you've had a chance to meet Chris, you'll know his energy, determination and spirited personality."
In Chris' own words, "My mission is to honor God by being the best me I can be so I can be an example to others. I want to change the perceptions and raise expectations for others like me so we can reach our God-given potential. Believe and Achieve by Getting '1% Better.'"
Chris continues to demonstrate that with a positive outlook, hard work and solid support, possibilities can become reality.
Your Partners in Whole-Athlete Care
As Chris said, we honor God by being the best versions of ourselves. We're here to help you do just that with our whole-athlete approach to health care that strengthens you physically, mentally and spiritually.
Learn more about our partnership with Chris Nikic by clicking here.
More about Chris can be found at https://chrisnikic.com/about/.