Feeling Whole: The Bucs and Lightning Give Time, Talent and Treasure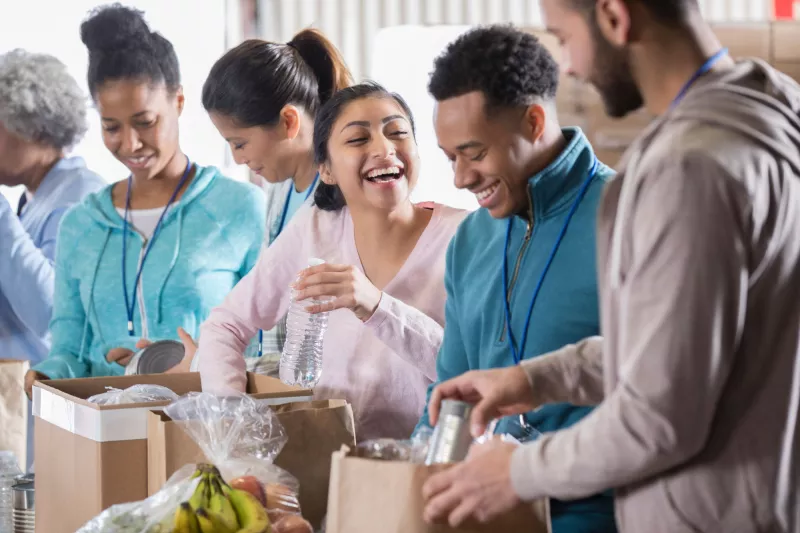 Choose the health content that's right for you, and get it delivered right in your inbox
When you give your time, talents and treasures (monetary or otherwise) to build up other people, you can't help but feel great inside. It's a feeling of wholeness, for you and everyone you serve. And after all, showing gratitude through giving back not only brightens someone's day, but it can also change their life for the better.
Take it from two of Tampa Bay's most beloved teams. For the Tampa Bay Buccaneers and the Tampa Bay Lightning, every day is game day when it comes to making the community a better place to live, grow and play — and a big part of that is giving back.
For as much love, support and encouragement as these two teams receive from fans, they pour just as much time, energy and gratitude right back into the Tampa Bay community. As you cheer on your hometown teams this season, you can feel good knowing that they give back to the community all year long.
The Lightning Foundation: Leading by Example and Investing in Community
The Tampa Bay Lightning Foundation is a non-profit organization that harnesses the star power of Lightning hockey to benefit the greater Tampa Bay community.
The Lightning Foundation was built on the idea of leading by example to better the community, and their efforts inspire others to join them in giving back to the people of Tampa Bay.
Focused on meeting basic human needs and enhancing lives, the Lightning Foundation invests resources and leadership to better the lives of every fan, donor and hockey enthusiast through:
Local events, like Bolts Family Game Night, the Bolt Run, military appreciation luncheons and more
In-game initiatives, like Hockey Fights Cancer Night, Pride Night, Mystery Pucks and more
In-kind donations that provide fundraising support to local nonprofits
Hockey is for Everyone™, which drives positive social change and inclusion
Hosting 50/50 raffles that benefit charities in Tampa Bay
Philanthropic efforts, like the Lightning Community Hero Program and the Community Heroes of Tomorrow Program
To see even more ways the Foundation gives back, follow the Lightning Foundation on Twitter and Instagram.
Bucs in the Community: Giving Back and Lifting Others Up
The Bucs believe in uplifting the community through driving social change, investing in innovation and helping people of all ages thrive in Tampa Bay.
Over the past decade, the Tampa Bay Buccaneers have given $12 million back to the community through efforts of the Tampa Bay Buccaneers Foundation and the Glazer Family Foundation.
Bucs in the Community highlights all the various ways the Bucs give back, including through:
Fulfilling donation requests for Buccaneers memorabilia in charitable fundraising
Player Programs, including My Cause My Cleats, Turkey Time with the O-Line, the community ticket program and more
Salute to Service, including Military Day at Training Camp, Hero of the Game, Schwarzkopf Military Family of the Year Award and more
The Glazer Family Foundation, including the Vision Program and Children's Museum
The Tampa Bay Buccaneers Foundation, including youth and health and wellness initiatives
Giving Back Like the Bucs and the Lightning
You don't have to be rich, famous or a sports star to give back to the community like the Bucs and Lightning do.
Even a small donation, several hours of volunteering or lending a helping hand on the weekend can go a long way to lift others up and make a difference.
You can give of your time, talents and treasures by:
Donating supplies to a local shelter or humane society
Fundraising for a local charity or cause
Lending a helping hand to help someone move
Organizing a garage sale for charity
Preparing meals for neighbors in need
Showing gratitude through a verbal or written thank you
Tutoring students
Volunteering at a food pantry, senior center, school or hospital
Partnerships That Move the Community Forward
The Bucs and the Lightning actively invest in the well-being of the community alongside AdventHealth, the official hospital of both teams. Together, AdventHealth, the Bucs and the Lightning empower people to take health into their hands and to celebrate wins big and small in life.
As you cheer on your teams this season, you can feel supported, too, knowing that AdventHealth has your best life in mind. We are dedicated to championing health care in the Tampa Bay community and here to help you thrive each day, too.
Learn more about your network of care and see how AdventHealth teams up with the Tampa Bay Lightning and the Tampa Bay Buccaneers to benefit the community as a whole.