Pick Your Pace: Walk and Run Your Way to Whole Health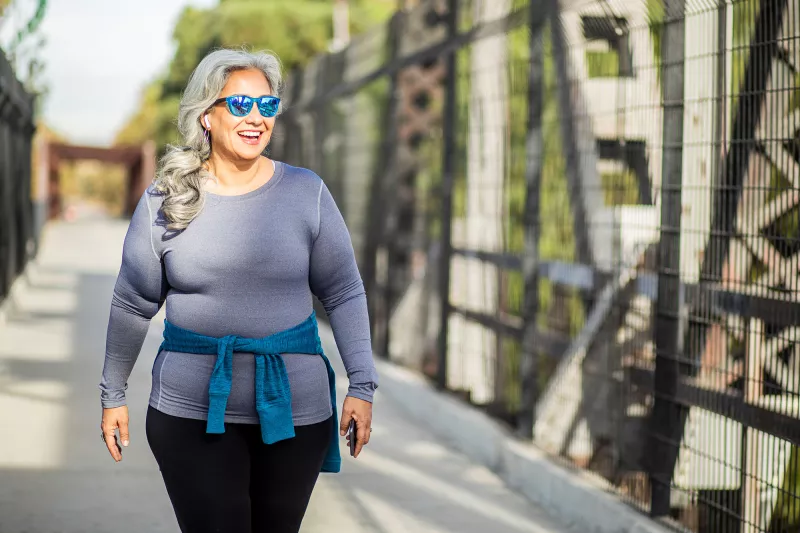 Choose the health content that's right for you, and get it delivered right in your inbox.
Whatever speed is your target comfort zone, a good workout is as simple as putting one foot in front of the other. While there is a long-standing debate on whether walking or running is the better exercise, the truth is that they're both extremely healthy and effective — as long as you're fitting consistent movement into your days.
We're here to explain the health benefits of walking and running, along with some of the key differences between the two so you can pick the right pace for you.
Health Benefits of Walking and Running
Regular physical activity is an important part of a healthy lifestyle. Whether you prefer to walk or run for exercise or for pleasure, you'll reap important health benefits as long as you're doing one, or a mixture of both, on a regular basis. Starting with a brisk walk out in nature, even for 10 minutes a day, can help ease muscle tension and lower stress hormones, thereby brightening your mood and lifting your spirits.
You can increase your time and speed until you're walking, jogging, running or doing a combination of all three for at least 30 minutes a day. Aim for 150 minutes of moderate-intensity walking and/or running a week to achieve optimal health benefits.
Walking and running are both aerobic exercises that effectively improve your whole health by:
Aiding weight loss
Calming your nerves
Easing depression and making you happier
Improving your mood, sleep, concentration and energy levels
Lowering your blood pressure and cholesterol levels
Reducing your risk for type 2 diabetes, heart disease and some cancers
Strengthening your muscles, bones, lungs and immune system
Before you decide to stroll, jog or sprint your way to better health, here are some of the differences and similarities between walking and running to consider.
Running is Faster
The main difference between walking and running is the intensity, or how hard your body works.
Brisk walking is a moderate activity. Your heart pumps hard, you may sweat and you can talk, but not sing. On the other hand, you can only speak a few words at a time during a vigorous running session.
While 150 minutes per week is recommended by the CDC for moderate physical activity, you can half that goal to 75 minutes per week if you're doing vigorous exercise like intense running.
Both are Considered Safe Exercises
Both walking and running are generally very safe exercises. You may have heard that running ruins your knees, but this is an untrue myth. Running may even boost your knee joint health by strengthening the joints and surrounding muscle tissue and bones.
Many runners do get some short-term injuries. Every year, about half are temporarily sidelined. You can prevent these injuries by following some simple safety guidelines, like wearing the right shoes, planning your route, pacing and distance ahead of time, and paying attention to your posture.
Running isn't recommended for some individuals, including those with hip replacements. Have a chat with your primary care provider (PCP) to make double sure running is a good exercise for you and your body.
Walking and hiking are lower-impact exercises, posing fewer risks to joints and muscles. You can still get some uncomfortable side effects like blisters. You can prevent them by choosing activity-appropriate shoes that fit well and soft surfaces to walk on, like grass or dirt trails.
Both Control Your Weight
Hour for hour, running burns more calories than walking — about 590, compared to 280 calories per hour when walking, for someone who weighs 154 pounds.
Walking still burns fat and can improve your body composition. Research has shown that people who stroll between 10,000 and 12,000 steps per day tend to have less body fat and a lower waist-hip ratio.
If you haven't been active for a while, begin with short walks. Over time you can extend them, and then add short bursts of running as you feel comfortable.
It's also best practice to include two days of muscle-strengthening activities per week. Doing so will reduce your risk for falls and other injuries.
Movement for Your Body, Mind and Spirit
Both running and walking improve your whole health. From strengthening your body to easing your mind and lifting your spirits, they're perfect exercises to help you live life to the fullest. For optimal results, start where you are, taking into consideration your current health. Then, you can progress as you feel comfortable and your doctor recommends.
Your primary care provider can help you come up with an exercise plan that takes into account your current health and medical history. Click here to find a provider near you. You deserve to feel whole.