How Hospice Benefits Those With Dementia and Their Loved Ones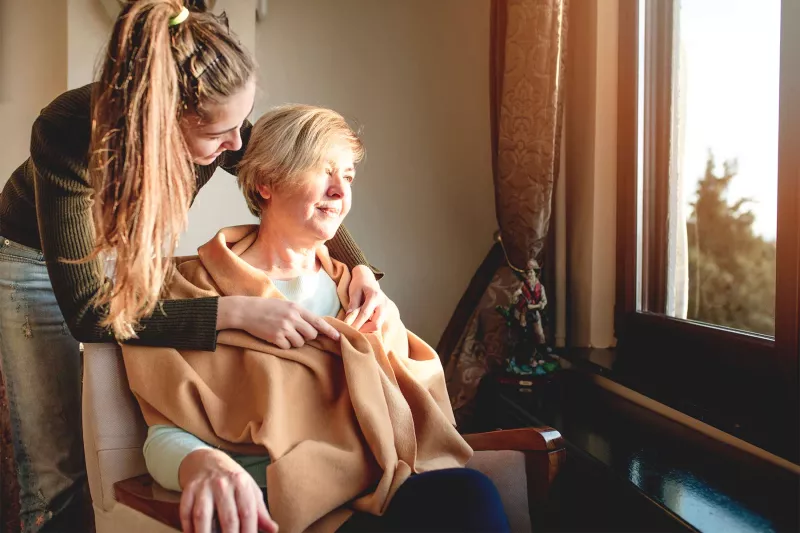 Choose the health content that's right for you, and get it delivered right in your inbox.
If your loved one has dementia or Alzheimer's disease, you have walked them through this season for several months or years. You have been there in the highs and the lows, but maybe you both need more support as their condition progresses.
Hospice care is much more than a service that helps you and your family make the most of the time that remains. It's an opportunity to keep your loved one's days full of love, support, comfort and peace. Keep reading to learn more about how hospice benefits those with dementia or Alzheimer's and their families.
When to Seek Hospice for Dementia or Alzheimer's Patients
With the slow decline of dementia and Alzheimer's disease, it can be difficult to decide when the right time for hospice is. While only a doctor can make a clinical determination of life expectancy, generally, patients in hospice have less than six months to live.
There are common signs that can help you determine if now is a good time for hospice care, such as:
The person can no longer walk and is bed-bound
The person can only say a few words
The person is dependent on others for dressing, eating and grooming
The person shows severe signs of anxiety
If your loved one is experiencing one or many of these signs, it might be time to consider hospice care.
What Hospice Care Can Do for Patients
Hospice is a special way to care for terminally ill people, like those with dementia or Alzheimer's. Hospice care has a team of specially trained providers whose primary purpose is to manage pain and other symptoms during the last six months of life, where treatments focus on comfort rather than a cure.
While deciding to place a loved one in hospice care can be difficult, it can be very beneficial for the patient. Here are some ways that hospice care can help patients.
Reduced Hospitalizations
Unfortunately, when a person is at the end of a terminal illness, they often begin making frequent visits to the hospital. This can add more stress to the patient and their loved ones. Living out of a hospice center or with in-home care will greatly reduce the number of hospital visits and hospitalizations, as the around-the-clock care from specialized nurses and doctors can help catch and manage symptoms.
Receive Personalized Care and Attention
As dementia and Alzheimer's progress, the patient begins to lose their ability to communicate and do basic activities like eating or dressing independently. Hospice nurses understand cues and know what to look for to ensure that patients are comfortable and cared for. Each patient is unique, and we believe they should be cared for in the same unique manner. Our hospice care team creates a personalized care plan and gives them the individual attention they need.
Emotional and Spiritual Assistance
At AdventHealth, we believe that feeling whole means caring for your body, mind and spirit. While our nurses carefully manage pain and discomfort, they also provide emotional and spiritual support to each patient. Our team helps patients feel solace and comfort in moments of anxiety and frustration. Our spiritual care team also helps patients lean on God's strength during these turbulent times.
What Hospice Care Can Do for Families
As a loved one of someone with dementia or Alzheimer's, it can be difficult to watch as they reach the end of their terminal illness. While many families wish to care for their loved ones until the end, hospice care can benefit the patient to get the more specialized care they need and help families receive support over the coming months. Here are some ways that hospice care can help families.
Caregiver Education and Support
Family caregivers are vital in helping hospice professionals provide the best experience for patients. As the patient becomes weaker, communication becomes increasingly more difficult. It's important that caregivers are prepared for this. Our hospice care team prepares families for this decline and teaches them how to best support their loved one. We're by your side in caring for them and will ensure you and your family are also cared for throughout this process.
Help With Difficult Decisions
The further into the terminal illness, the harder decisions become concerning the impact of the patient's condition and quality of life. Some decisions include whether to give antibiotics for a recurring infection or provide life-support measures. These decisions are heavy and can be overwhelming at times. Our hospice care team guides you through all the options and answers and questions you may have to make the best decision for your loved one. With hospice care, you never have to walk alone.
Compassionate Care When You Need It Most
Watching a loved one struggle with dementia or Alzheimer's isn't easy. At AdventHealth, we're committed to the whole health of your family. Hospice care can be a great way to let us become more involved in the care of your loved one and help you get the support you need.

We honor this season of life with expert care and uncommon compassion for you, your loved one and your whole family. To learn more about hospice care or find a center near you, click here.