Dispelling Lung Cancer Myths: What You Really Need to Know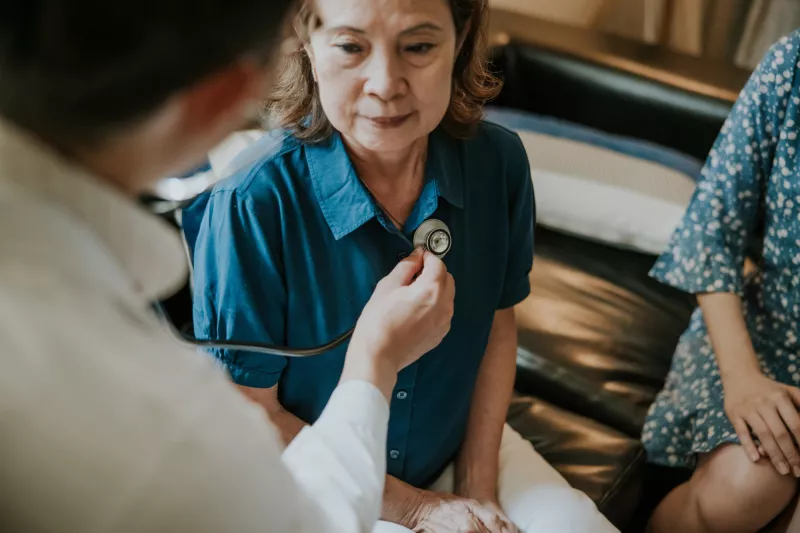 Choose the health content that's right for you, and get it delivered right in your inbox.
Lung cancer is the leading cause of death globally and the second most common cancer. It forms in the tissues of the lungs, typically in the cells that line air passages, and develops when these cells grow and multiply uncontrollably. This unmanaged growth harms lung tissue and may hinder the lungs from working properly.
Sadly, lung cancer patients usually don't experience symptoms until the disease is already in advanced stages, with only 15% of cases diagnosed in early stages when it's more treatable. That's why we're here to set the record straight about lung cancer while dispelling common myths surrounding this dangerous disease.
Myth: Only Smokers Get Lung Cancer
Fact: There is a stigma that lung cancer only occurs in smokers; however, 10% to 20% of lung cancer cases occur in people who never smoked or used tobacco. This statistic has been on the rise, especially among women.
Exposure to secondhand smoke, air pollution, asbestos and other environmental toxins can also cause lung cancer. For example, secondhand smoke exposure can increase your risk of developing lung cancer by 20% to 30% as it often contains more toxins than a smoker inhales due to filters on the cigarettes themselves.
Myth: It's Useless to Quit Smoking
Fact: It's never too late to stop smoking. And if you smoke, the sooner you quit, the better, so you can restore your pulmonary health while decreasing your chances of developing lung cancer and other diseases. You can reduce your risk for lung cancer by about half that of someone who still smokes ten years after you stop the habit.
Myth: Lung Cancer is a Male Disease
Fact: Although lung cancer does affect more men than women (1 in 15 men and 1 in 17 women), a greater percentage of women who develop lung cancer have never smoked. Researchers are studying how the genetic and hormonal differences between males and females play a role in the development of lung cancer.
Myth: Lung Cancer Occurs Only in Older People
Fact: While the average age of lung cancer diagnosis is 73, younger people can get it too, even if they've never smoked. Adenocarcinoma, a type of non-small cell lung cancer, can often occur in nonsmokers, women and at a younger age.
Myth: Lung Cancer Screenings Cause Lung Cancer
Fact: While CT lung scans do expose patients to radiation, the exposure is about a quarter of the dose of a regular CT scan. In a year, the average person is naturally exposed to about three millisieverts (mSv) of radiation, whereas a low-dose CT lung screening scan is half (1.5 mSv) that.
Limiting our radiation exposure is good, but the benefits of finding lung cancer through low-dose CT scans outweigh the cons by saving lives. Newer technology has improved early diagnosis and treatment.
Lung cancer screenings are recommended for those ages 50 to 80 with a 20-pack-year smoking history who currently smoke or have quit within the past 15 years.
Myth: All Lung Cancers are the Same
Fact: There are two main types of lung cancer, non-small cell lung cancer (NSCLC) and small cell lung cancer (SCLC). Along with these two main types, other lung tumors can occur.
NSCLC is the most common lung cancer, accounting for 80% to 85% of cases, and usually grows slower than SCLC. Typically, it causes few or no symptoms until it has advanced.
SCLC is the most aggressive type of lung cancer, generally caused by smoking.
Myth: Lung Cancer Treatments are the Same for Everyone
Fact: Just as no two lung cancers are alike, neither are the treatments for each unique patient. Many effective lung cancer treatments range from chemotherapy and immunotherapy (using your own body's natural defenses) to radiation and surgical resection.
Lung cancer diagnosis and treatment require a customized treatment plan for patients and their cancer. The treatment consists of a combination of therapeutic methods and a dedicated multidisciplinary team coordinating care to ensure each patient receives the best treatments that fit their individual needs.
Currently, up to 60% to 90% of patients with early-stage lung cancer can be cured by surgery alone. Even for locally advanced lung cancers — stage 3, non-surgical candidates — up to 20% can be healed with chemotherapy or radiation.
We're in This Together
While there are misleading myths surrounding lung cancer, knowing the facts can save lives.
Know that at AdventHealth, you have a team of cancer care experts supporting you when you need it most. You can lean on your oncologists, radiologists, cancer surgeons, nurses and more. With the latest technology, treatment programs and diagnostic imaging, we're part of a nationwide network of community cancer programs and advanced cancer institutes. And we're with you every step of your journey.
Click here to learn more. You deserve to feel whole.