Bridging the Generational Gap: Conversations about Race, Culture and Health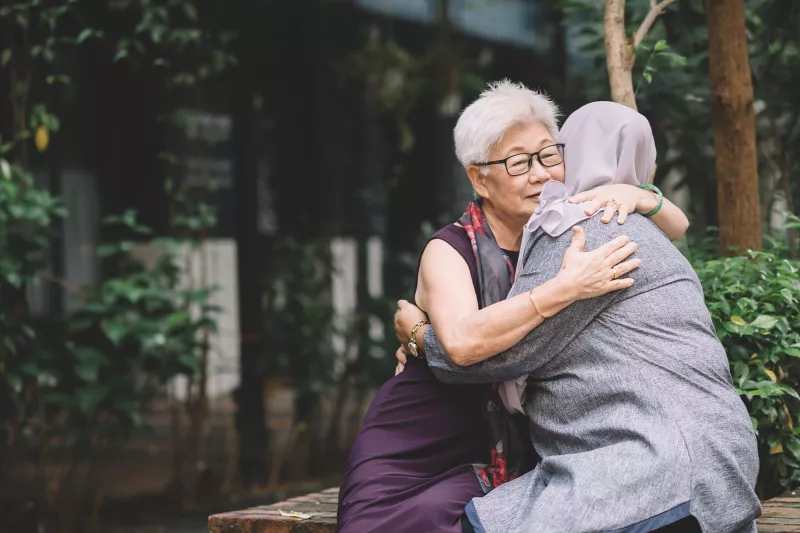 Choose the health content that's right for you, and get it delivered right in your inbox.
The closeness and safety of family during uncertain times can be so comforting. Some cultures have a deep history rooted in the importance of close-knit families. "It takes a village" is a concept lived by many Asian American families who value close relationships with extended family. In a cultural tradition like theirs, the health of the community typically takes precedence over any one individual, especially for the older generations, which can impact health outcomes of individuals within families.
With so many important social issues currently at the forefront and the trauma of the past two years still lingering, we want to highlight our Asian American and Pacific Islander communities, empowering family members to talk to each other more openly about race, culture, family expectations, societal pressure and how mental health, and often physical health, is affected. Keeping communication lines open is key to staying well in body, mind and spirit — for families and individuals alike.
Under Pressure
While the intentions are good, when collective health is considered more than individual health, the expectations are set high and it's easy to forget to take care of oneself. There may be many members of the AAPI community who feel pressured to hide any human imperfections or symptoms, preferring to suffer in silence for the sake of their families.
Hiding struggles without support from family and friends can lead to mental health issues like anxiety and depression. Research shows that AAPIs have the lowest rate of seeking help for mental health than any group.
Signs your family member may be experiencing mental health issues include:
Anger
Crying frequently
Excessive worrying
Irritability
Isolation
Low self-worth
Negative outlook
Sadness
Untreated mental health challenges like anxiety and depression can lead to a breakdown in physical health as well, with symptoms such as:
Aches and pains
Digestive issues
Dizziness
Exhaustion
Headaches and migraines
Heart palpitations
Insomnia
Restlessness
Skin reactions
Tension
A vicious cycle can happen where those suffering with these symptoms see themselves as failures. Such perceived failure can extend to feeling like they can't live up to expectations to succeed academically, personally and professionally, which can be a source of severe stress and lead to more feelings of inadequacy.
The Model Minority Myth
Many of us are taught not to judge a book by its cover or to stereotype anyone, with the logic that stereotypes usually have negative connotations. While this is often true, it's also true that there are positive stereotypes that can have a negative impact. Already held to high expectations by their families to achieve, Asian Americans who live with "the model minority myth" are unfairly held to higher standards by society, and suffer more as a result.
The narrative set forth by the model minority myth is that Asian American children are geniuses in math, science and music — and that their parents force them to excel to surpass everyone else. The stereotype unfairly characterizes Asian Americans as "polite," law-abiding," "successful," and immigrants who live the American dream.
Like all stereotypes, this type of thinking stops people from being seen as individuals with differences and preferences. Those who are stereotyped are left with more anxiety to uphold what they think is expected of them from all ends.
Generation Gap
No matter what our ethnic or racial background, it can be difficult to start a conversation about race, culture and/or health with family members, especially if the age gap is very different. Adult children talking to their parents, and grandchildren talking to their grandparents, about such complex and important topics can be unnerving. Getting the conversation started is the first step, and it can lead to good outcomes where each participant can end up learning not only more about other perspectives and innovations, but more about themselves and their own biases in the process.
In Asian American families, "respect your elders" and "don't make waves" often impact how family members relate to one another and what is expected of each person. Having a conversation where you will make waves and challenge your elders is a risk of being seen as disrespectful. Here's how you can do it as sensitively and effectively as possible:
Be Humble and Educate Yourself First
Read, research and come into the conversations armed with knowledge of what you're going to talk about. Consider that your older family members simply might not know as much about American history, the centuries-long history of racism, the experience of different cultures and the various impacts on health if they didn't go to school here or experience it first-hand. Honor their lived experiences, too, and ask about what it was like for them growing up.
Put Your Emotions Aside
If a family member says something that sounds impolite as you're trying to open the discussion to help enlighten their worldview, it's normal to feel angry, sad and offended. It's how you respond to those comments that can make all the difference. If they feel judged for their beliefs, they'll shut down and get defensive. Putting your emotions aside while you try to educate them and open communication can be the most effective approach in that you are perceived as being in control.
Ask about Their Lived Experiences
For many Asian American parents and grandparents, views on cultures different than their own were shaped by their experiences in their home countries. Try to understand the conditions they grew up in and how they still carry them. There may be trauma informing their opinions and fears. The effects of distress in their past may even be intensified because of current national and international traumas we're witnessing and experiencing — including an unfortunate rise in hate crimes against Asian Americans and the AAPI community since the pandemic began in 2020.
We all have a story, and that narrative is what shapes us. Stay curious and let them tell theirs. That's where healing can begin for individuals and families — with listening and understanding.
Speak Personally and Empathetically
Your family members care about you, so tell them why supporting diversity, learning about racism, being inclusive and talking about these topics together to bridge the generational gap is so important to you. Let them know you care about them as much as they care about you — that you want to see your family healthy in body, mind and spirit.
Care You Can Trust Across Cultures
At AdventHealth, we provide world-class care to everyone and treat every patient with dignity. We honor all cultures, respect all wishes and strive to meet all needs. We build trusting relationships between patients and providers and Extend the Healing Ministry of Christ to them and their families.
If you're struggling, visit here and reach out for care from the heart that you can trust. You deserve to feel whole in body, mind and spirit.