Back to the Office: How Companies Can Best Help Employees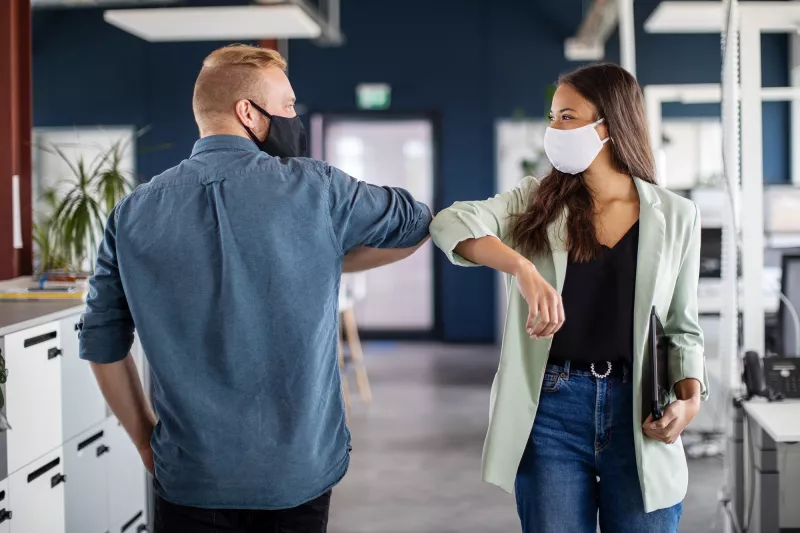 Choose the health content that's right for you, and get it delivered right in your inbox.
For many of us, the pandemic changed the nature of our work environments overnight. We went from offices and in-person meetings to Zoom meetings in our living rooms. Some of us are still working from home as companies across the country open back up for business face-to-face.
Those going back to the office for the first time since they began working from home may be faced with complex, mixed feelings. While they may be anticipating getting back to normal, there may also be some nervousness about changing their "new normal." Given the current state of affairs with COVID-19 and variants of concern, feelings of fear may still loom large.
Here are some ways employers can help team members cope with these changes under tricky circumstances — with compassion and flexibility in the safest possible environment.
Support Employees' Whole Health
Since it may cause unanticipated stress when returning to the office, it's important to create environments that reduce anxiety and the potential for burnout. Employers can offer work spaces that cater to different work styles and personalities, as well as having relaxation areas, green spaces or even a small chapel.
Establishing healthy routines in the office that encourage healthy behaviors such as fitness spaces with exercise equipment, outdoor spaces and nutritious food options can allow employees to experience improved health and happiness while keeping them energized and motivated.
Be Flexible
We've been experiencing a new way of life since the pandemic started, and changing routines overnight isn't easy. The commute alone might be discouraging for some workers who've gotten used to their home offices, and others might be dreading going from comfortable clothing back to office wear.
By offering some flexibility, employees might very well be more enthusiastic about returning to the office. Ideas like offering a hybrid model where it's expected they come in only certain days a week, incorporating flex time allowing them to suggest their own schedules, and relaxing the dress code are all innovative ideas that show compassion.
Provide a Safe Environment
There is a still a risk of getting a COVID-19 infection when we're around other people, and a large percent of the workforce expresses concern that it might happen to them. Clear, high-quality hygiene measures should be taken to ensure both employees' safety and their peace of mind.
Frequent cleaning, air-filtration systems and space between desks will provide safety and make workers feel more secure. Some teams are already staggering start and end times, or giving members the option of flexible hours.
Recognize and Reward Employees' Efforts
Acknowledging hard work improves job satisfaction, keeps employees motivated, inspires innovation and supports whole-person health and well-being.
Finding ways to offer recognition that your staff finds meaningful is key. You can do a survey to find out their greatest wants and needs, and what will make the biggest difference to their well-being and work ethic.
Feel Whole at AdventHealth
Attending to employees in body, mind and spirit is key to healthy outcomes for them and the whole company. We work to extend the healing ministry of Christ to our employees as well as the patients we serve.