8 Ways To Spring Into Good Health With Primary Care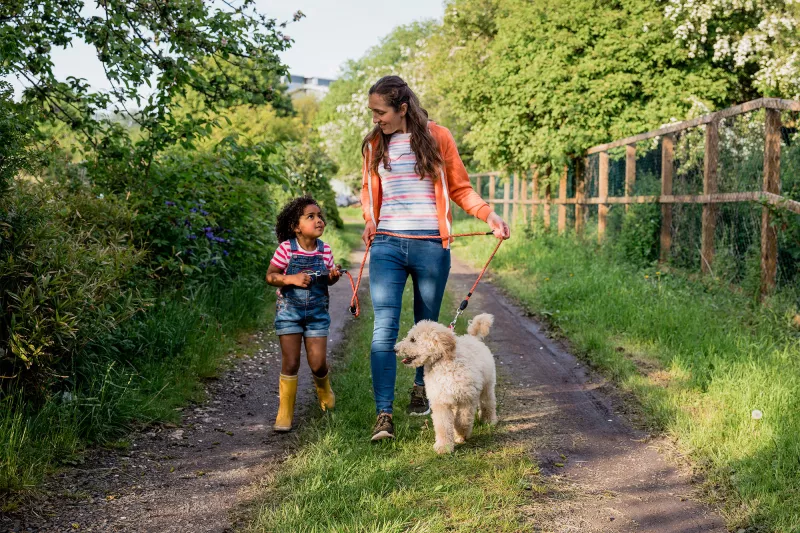 Choose the health content that's right for you, and get it delivered right in your inbox.
Spring is here, a time of newness and revival. When you're ready to start fresh and give your home a thorough spring cleaning this year, consider doing the same for yourself!
One of the best things you can do to "spring clean" your health — for your body, mind and spirit — is to keep up with your primary care provider (PCP). We're here with eight ways to spring into good health by partnering with primary care this season.
1. Feel Your Best All Season With a Wellness Exam
As your go-to physician, your PCP knows you better than any other provider. They're familiar with your baseline health measures and can quickly determine when something isn't right. If you need treatment, they can give you prescriptions and referrals. Because they're able to get to know you, they also know your personal health goals, medical history and preferences so they can tailor their treatment to the unique individual that you are — inside and out.
If you don't have a PCP that you visit regularly, you aren't getting the regular health screenings you need to avoid potentially serious illnesses like high blood pressure, diabetes, heart problems and cancer. Your PCP is your personal source for preventive medical care. You can rest assured you'll receive the consistent, coordinated care you deserve. And in most cases, your out-of-pocket cost to visit their office is much lower than a trip to an ER or urgent care clinic.
2. Get Moving
Springtime is a great time to get outside and get moving. You can walk, jog, run, swim or casually practice your favorite sport like basketball or kicking around a soccer ball. Whatever you do for your activity, make it a quick enough pace that you can't quite hold a conversation. Ideally, do it every day for 30 minutes.
According to our skilled primary care providers, getting started is simple. You can walk in one direction for 15 minutes, and then walk back. You won't believe how much better you'll feel by adding movement to each day and getting fresh air as much as you can while spring is in the air.
3. Eat a Healthy Diet
Your primary care provider can also help guide your nutrition choices based on your needs. Dietary recommendations vary widely based on each individual's health, disease, allergies and preferences. Get your primary care provider's recommendations after your physical. If you need to lose weight, prepare healthy meals in advance so that you're not tempted to eat out or grab quick, processed food.
Try adding fruits and vegetables to your recipes that are in season in the spring. Make sure you're getting five servings of fruits and vegetables a day for optimal health. Here are some tasty and nutritious options:
Avocados
Artichokes
Arugula
Asparagus
Berries
Cabbage
Carrots
Fennel
Mangoes
Peas
Spinach
Need an idea for a fresh, healthy springtime dish to share with your family? Try our bright and bold spinach-mango salad recipe. You'll be glad you did.
4. Stay Hydrated
Good hydration is key to preserving health and wellness for a number of reasons. It helps you digest food and burn fat by making sure your kidneys and liver are functioning optimally. Sometimes dehydration can even feel like hunger. Staying hydrated helps keep you from overindulging.
Our primary care experts advise that water should make up the majority of what you drink. Drink lots of it, especially as the weather heats up the deeper we get into spring and start to approach summer. Challenge yourself to drink 64 ounces of water a day for a week. Then, check in with how you feel.
5. Get the Best Rest
Even with our busy schedules, it's important to remember that rest isn't a luxury. It's a need, and without it, it's hard to function and stay well. Rest includes getting enough sleep — 7 to 8 hours per night — but it also means taking some time to quiet down during the day. Most people focus on rest for the body, but it's really important to rest your mind and spirit too. You can take mini-mental breaks to meditate, pray or do something that relaxes you, like listening to music or doing a crossword puzzle. 15-minute naps can do a world of good as well.
If you're having trouble sleeping, or you sleep but still wake up tired, be sure to let your primary care provider know. Together, you can get to the bottom of what's keeping you from getting the rest you need.
6. Nurture Your Mental and Emotional Health
If you want to improve your health, take some time to tend to your emotional and mental health. Developing healthy habits is a key to not only better physical health, but mental health too. All of the tips mentioned above are just as good for your mental health. If you're showing signs of anxiety or depression, your primary care provider will likely recommend physical activity, a balanced diet, drinking enough water and getting proper rest.
Spring brings a renewed sense of hope with warmer weather, increased daylight and the joy that nature brings us at this time of year. Getting out in nature is also good for your mental health. Find a green space at a local park, let the sun warm your skin, and just breathe.
7. Practice Spring Sun Safety
According to the Centers for Disease Control and Prevention (CDC), spending time outside is a great way to get physical activity, reduce stress and get vitamin D. You can work and play outside without raising your skin cancer risk by protecting your skin from the sun.
Most skin cancers are caused by too much exposure to ultraviolet (UV) light. UV rays are an invisible kind of radiation that comes from the sun, tanning beds and sunlamps. They can damage skin cells.
Protection from UV rays is important all year, not just during the spring and summer. They can reach you on cloudy and cool days, and they reflect off of surfaces like water, cement, sand and snow. In the United States, UV rays are typically strongest between 10 am and 4 pm.
Our providers agree that you can protect yourself from the sun while still enjoying the outdoors by taking advantage of shade, beach cover-ups, hats, sunglasses and sunscreen with an SPF of 15 or higher.
8. Follow These Spring Allergy Tips
With spring being such a beautiful time of year, it seems unfair that allergy sufferers are often feeling at their worst with their condition when everything is in bloom. Here are a few tips so that you can better enjoy the spring season.
Avoid being outdoors on windy days, especially mid-morning to mid-afternoon, when pollen counts are often highest.
Have non-allergic family members or others do the cleaning. Try to be out of the house during all cleaning, especially during carpet cleaning.
Keep car and home windows and doors closed.
Shower, wash your hair and change your clothing after coming in from outside.
Use over-the-counter antihistamines as needed.
When cleaning, use caution with household cleaning products. Make sure the area to be cleaned is well ventilated.
If your allergies are so severe that they're impacting your day-to-day living, visit your primary care provider so you can get tested. They might recommend additional allergy medications, therapies and other environmental controls.
Get Back the Spring in Your Step With Primary Care
We believe health care should be quality, convenient and personal. With more than 200 primary care providers in neighborhood-based practices, it's never been easier to find a trusted doctor to partner with you on your path to whole health. Online scheduling, extended hours and same-day appointments allow you to fit essential care into your busy life.
Visit us here. You deserve to feel whole in body, mind and spirit.