10 Stimulating Activities for Alzheimer's Disease Patients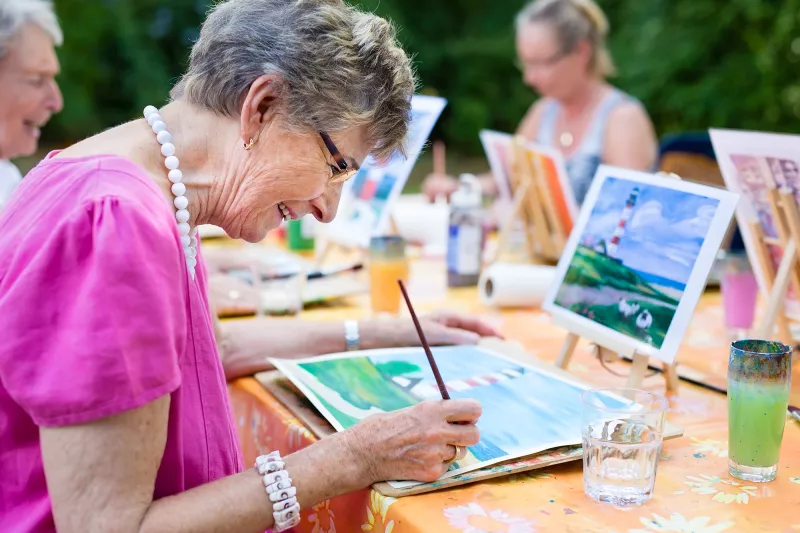 Choose the health content that's right for you, and get it delivered right in your inbox.
If you have a loved one with Alzheimer's disease, you may already be familiar with the heartbreak it can cause. Alzheimer's is a progressive disease beginning with mild memory loss and may lead to the inability to carry on a simple conversation and everyday activities. It affects parts of the brain that control thought, memory and language, and it's the most common form of dementia.
Since Alzheimer's disease can cause patients to withdraw from and forget about interests and hobbies that once brought them joy, it might be easy to stop trying to engage them in these ways with the logic that it won't make a difference. But, the opposite is true. It's especially important to help your loved one maintain these interests to the best of their ability to help lead a better quality of life by reducing the effects of memory impairment and keeping them as sharp and engaged as possible.
Activities for Alzheimer's Patients
We're here with 10 stimulating and meaningful activities you can do with your loved one if they have an Alzheimer's diagnosis or another form of dementia. These activities are social and can benefit any senior. They will feel seen, engaged and valued. Doing activities like these on a regular basis can even help prevent dementia.
1. Do Arts and Crafts: Getting creative can light up parts of the brain that may not have been used for a while. Try drawing, painting or sculpting. Adult coloring books are very popular and can help promote a sense of calm and relaxation.
2. Play Music: Whether you play instruments together, sing songs or listen to old records, the idea is to stimulate memories. Music has a powerful way of bringing us back to times and places long forgotten by association.
3. Make a Photo Album or Scrapbook: A project like this can work various parts of the brain. It's creative as well as a sorting/organizational project. The pictures can help stimulate your loved one's memory as well.
4. Encourage Physical Activity: Go on walks, ride bikes, walk the family dog or take a hike in the fresh air together. Just make sure the chosen activity is something your loved one is physically able to handle.
5. Care for a Garden: Plants are living things, and tending to them is good for the body, mind and spirit. Giving your loved one the responsibility to care for something can build confidence, lift the spirits and provide a routine that involves a process. You can even visit a local botanical garden together.
6. Read the Newspaper: Reading is a stimulating mental exercise. Reading the newspaper will help keep your loved one aware of current events and stimulate emotions and memories.
7. Do Puzzles: Puzzles are a good way to keep problem-solving skills sharp, and they're fun, too! Seeing the completed puzzle at the end brings about a sense of accomplishment.
8. Cook and Bake: Making food together is an engaging, interactive experience. Keep the recipes simple. Help your loved one go through the process of following the recipe, naming and measuring the ingredients and timing how long to cook or bake the dish. Then, you get the bonus of enjoying your culinary creation together.
9. Keep the Conversation Going: Many Alzheimer's patients remember their past better than their present. Engage those memories by asking about their life when they were young — what they enjoyed, their friends and hobbies, music and movies they liked and so on. You'll also make them feel valued by asking about their most meaningful memories.
10. Do Chores Together: Simple chores that aren't too physically taxing like sweeping the kitchen floor, dusting the table, folding towels and other household tasks can help your loved one feel a sense of purpose.
Signs and Symptoms of Alzheimer's Disease
The CDC notes that memory problems are one of the first warning signs of Alzheimer's disease. Other signs include:
Memory loss that disrupts daily life, such as getting lost in a familiar place or repeating questions
Trouble handling money and paying bills
Difficulty completing familiar tasks at home, at work or at leisure
Decreased or poor judgment
Misplacing things and being unable to retrace steps to find them
Changes in mood, personality or behavior
Exceptional Whole-Person Neurological Care
If you think you or a loved one may have Alzheimer's disease, talk to your health care provider so you and your family can get all the support you need as early as possible. At AdventHealth, we're dedicated to help meet your needs — physical, emotional and spiritual — and we provide world-class neurological care for Alzheimer's disease and many other conditions, like:
Amyotrophic Lateral Sclerosis (ALS)
Brain Aneurysms and Cysts
Dementia
Migraines
Multiple Sclerosis (MS)
Psychiatric Conditions
Seizures and Epilepsy
Skull-Based Tumors
Visit us here for care that attends to your body, mind and spirit, as well as your past, present and future. You deserve to feel whole.