Your 2021 Wellness Checklist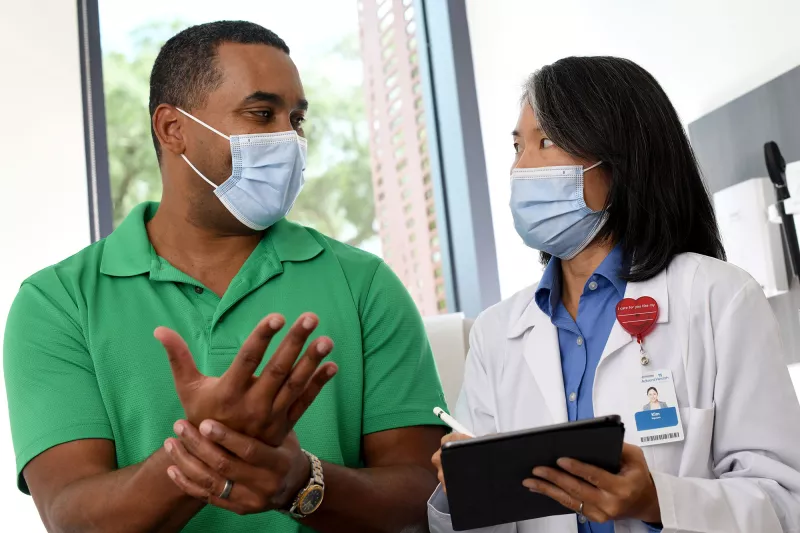 Choose the health content that's right for you, and get it delivered right in your inbox
You're ready: This is the year you're going to be proactive about your health. But if it sounds overwhelming, don't worry — we'll be your guide.
By getting your recommended checkups and screenings, you'll be more likely to catch potential issues early and safeguard your wellness. Depending on your age, risk factors and family history, you might have a variation of the list below. But the perfect place to start is with your primary care doctor, who will help you create a personalized health plan.
Here's a quick checklist for staying on top of your wellness appointments this year:
Primary Care Physician – Visit your primary care physician (PCP) for an annual wellness exam. Regular tests and screenings will help safeguard your overall health. If you don't have a PCP, we can help. Click here to find one near you.
Lab Work – Your PCP may suggest lab work after your exam. It's important to know your baseline numbers so you can monitor your health year after year. Your doctor will probably request basic blood pressure, cholesterol and diabetes tests, but additional tests might be needed based on your family history.
Gynecologist – An annual gynecologic exam is an essential part of medical care for women. Your physician will do a pelvic exam and Pap smear (to screen for cervical cancer) as well as a breast exam. If you don't have a women's health specialist yet, find one here.
Dentist – From your first baby tooth and beyond, your teeth and gum health must be maintained. All adults need twice yearly checkups. With regular dental visits, your dentist can help spot early signs of decay, infection and any other problems.
Mental Health – If you've been diagnosed with a mental illness or psychological disorder, or suspect you are experiencing one, it can feel like there's no light at the end of the tunnel. But it's important that you know there is always hope. With proper intervention, care and support, those living with these conditions can overcome them, regaining their joy and sense of purpose. They can get back to living the full life they deserve.
Eye Doctor – Even if you think your vision is 20/20, you still need to have your eyes checked regularly, especially as you age. As we get older, we're at risk for serious conditions like glaucoma which can lead to blindness. An exam can also find signs of other diseases that could be affecting your eyes, like diabetes. If you wear glasses or have vision problems, have an eye exam every two years or more often if recommended by your physician.
Dermatologist – Don't mull over that mole or dark spot — get it evaluated. An itchy or irregular spot can be one of the first signs of skin cancer. But, if caught soon enough, it's almost always curable. Consider an appointment with a dermatologist for a skin check. If they do find something unusual, rest assured that many skin cancers and lesions can be treated early, or even during your skin check appointment.
Vaccinations – From the flu to pneumonia, shingles and even pertussis, check in with your primary care physician to see what vaccinations may benefit your health.
Remember that the earlier a potential health issue is spotted, the more quickly and effectively it can be treated. So start making those appointments — we're with you every step of the way.